Bedtime to breakfast and beyond
Good sleep is vital for well-being, and the need for restorative sleep does not lessen with age.
What started as a program to improve the sleep of people with dementia at one Life Care site has led to a fundamental shift in how the South Australian aged care provider implements and embeds person-centred care for all residents with dementia, not just at night but 24 hours a day. Deborah Muldoon explains
Good sleep is vital for well-being, and the need for restorative sleep does not lessen with age. Older people need about the same amount of sleep as younger adults (7.5 to 8 hours each night). However, our sleep patterns change as we age – older people take longer to fall asleep and are more easily awakened. Depending on the individual, they may need to remain in bed for longer to achieve the required amount of hours.
Sleep quality can be affected by many things: noise and light disturbances, napping during the day, inadequate pain management, and evening activity or diet (for example, a meal may cause reflux, indigestion, cramps or nausea, especially if eaten late in the evening). When a person is not getting enough sleep, their enjoyment of daytime activities can decrease.
Our review and trial
In 2012 Life Care developed and trialled the Bedtime to Breakfast program in response to an increase in overnight bell calls from unsettled residents with dementia at its Aldinga Beach Court care home. A review of bell call frequency identified an average of 240 calls overnight in the 24-bed unit. During the day these residents were also exhibiting fatigue, anger, intolerance, lack of appetite and poor participation in regular activities.
The daytime environment plays a major role in positive sleep experiences when there are opportunities to reduce boredom and encourage social activity. Life Care residents, including Clarice, Dolores and John, are able to remain engaged in meaningful activities throughout the day. Photos: courtesy Life Care
Bedtime to Breakfast began with an investigation into the sleep habits of residents with dementia, led by a team of nine Life Care staff including management, nursing, care and lifestyle staff, and consultation with pharmacy suppliers. They assessed the major factors contributing to sleep disturbances in order to make recommendations and improve care for the residents. The program went beyond overnight care to also address residents' daytime activity to ensure a holistic approach to encouraging natural sleep.
Related News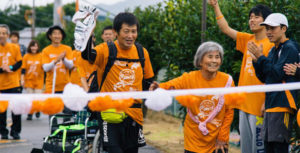 31 July, 2016
Dementia Friendly Communities showcases examples of dementia-friendly initiatives around the world
19 February, 2019
There is increasing demand for quality dementia training as the Australian aged care sector begins to take the citizenship of people with dementia seriously.