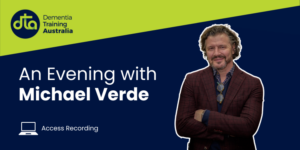 Person-centred care: Ending emotional isolation through empathetic connection
Type: Video 48 minutes
Dementia care, shift the way you think. Moving from a model of "doing for" to a state of "being with".
Join Michael Verde from Memory Bridge, to learn about his person-centred approach to ending the loneliness of people with dementia and their caregivers.
Founded by Michael in 2004, Memory Bridge host educational programs in three continents, and provide ongoing education to caregivers in 14 countries. Memory Bridge has connected over 9,000 people with and without dementia in one-to-one relationships.
---
Presenter
Michael Verde
Michael Verde is an award-winning writer, speaker, documentary producer and globally recognised thought leader in the field of dementia care. Michael has a M.A. in literary studies from the University of Iowa, a M.A. in theology from the University of Durham in England, and is currently completing his Ph.D. at Indiana University, specialising in the areas of empathetic communication, literature, and religion.
Downloads
---
Access resource now
---
Topics