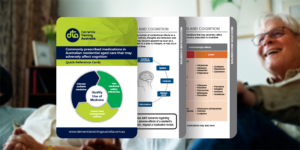 Common Medications That May Affect Cognition
Type:
Print Materials
Commonly Prescribed Medications in Australian Residential Aged Care That May Adversely Affect Cognition
This set of 4 Quick Reference Cards summarises commonly prescribed medications in Australian residential aged care that may adversely affect cognition.
Information includes what side effects to look out for, and circumstances that lead to increased risk of side effects particularly altered cognition. Keep these card close at hand e.g. by a dispensing computer (in a pharmacy), or on the medication trolley.
DOWNLOADS
These cards are a self-print resource. Download the template and instructions below to print, cut out and laminate the cards.
---
Topics