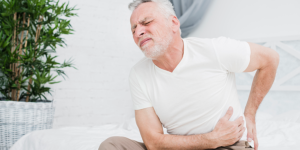 Identifying and treating pain in people living with dementia
Type:
Article
This information resource was developed to raise awareness of the importance of identifying and managing pain in people living with dementia.
It is intended to provide access to publicly available information and training resources related to the identification, assessment and treatment of pain in people with dementia. The content of all listed resources and information sources have been reviewed by Dementia Training Australia.
Disclaimer
Whilst Dementia Training Australia has taken all reasonable steps to ensure the veracity of the information contained in the resources and information listed in this document it does not accept responsibility for the content of any listed resource.
Background
Pain is common to all; everyone will experience pain over their lifetime. Yet pain is an intensely personal experience unable to be shared with others. Each individual reacts to, responds to and copes with pain differently but all rely on the ability to communicate they have pain and to describe its location, duration, type and intensity when seeking treatment.
It is now widely accepted that the pathological changes in the brain caused by dementia do not alter a person's ability to feel pain (Guerriero et al,) meaning people living with dementia feel pain in the same way those without dementia do (McAuliffe, Brown & Fetherstonhaugh, 2012). However what does change is the person's ability to control their responses to pain and to communicate being in pain to others (Ballard et al, 2011). People with dementia therefore frequently respond to and express pain through non-verbal body language or changed behaviours (Pieper et al., 2013). This leads to pain in people with dementia being under-recognised, under-reported and under-treated (Peisah, Weaver, Wong & Strukovski, 2014; Guerriero et al, 2016)
Health professionals and aged care workers have a responsibility to ensure those in their care are as pain free as possible (Aged Care Quality Agency) and this is no less so for people with dementia. Where the person with dementia is unable to self-report pain, the recognised gold-standard assessment method (Guerriero et al, 2016), the onus falls on the carer to identify the presence of pain. Doing so can be complex and difficult, requiring knowledge and skill.
This information resource provides summaries of, and links users to, a number of information and training resources which can be used by individuals seeking to increase their knowledge or to inform staff education programs.
Using this Document
Dementia Training Australia has collated this list of resources to provide ready access to publically available content. All listed resources have been reviewed by Dementia Training Australia and internet links were correct at the time of publication.
DOWNLOADS
Download Resource
PDF | File size: 294KB