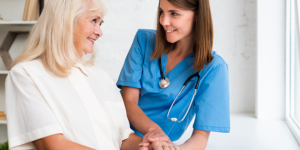 Improve Resilience and Wellbeing in the Dementia Care Workplace during COVID-19
Type: Video 48 mins
Are you working in dementia care? In the face of COVID-19, how well are you coping with the stress and uncertainty of day to day? Are you providing quality care to those living with dementia AND yourself?

Consider now is the perfect time to reset, refocus and recharge!

Join Sam Eddy, Workplace Wellbeing Educator & Executive Coach, as he explains the importance of good health, wellbeing and self-care in these challenging times. Leveraging on his background in Psychology, and years of experience specialising in workplace stress, Sam plans to leave our audience with the tools required to build on their self-care and resilience, thereby walking away feeling supported and capable of positive change.
PRESENTER
Samual Eddy
As an executive coach and wellbeing trainer, Samuel Eddy helps organisations and individuals manage stress and anxiety, tap into creativity and innovation, and make positive changes in culture, career, business, wellbeing, and work/life balance.
DOWNLOADS