MindMate
A free app to help people with dementia live more independent lives, stay connected to their social environment and give carers tools to engage with and know the person's life story and preferences
A free app developed by four university graduates from Glasgow to help people with dementia live more independent lives, stay connected to their social environment and give carers tools to engage with and know the person's life story and preferences.
MindMate features brain training games, easy-to-use tools for reminders, to-do lists and notes, entertainment (including movies and TV shows from the 1930s-1990s, music from the 1920s- 1980s, TED talks and relaxation music and videos), advice on nutrition and exercise as well as an area called My Life (My Pictures and About Me). Tapping the My Pictures icon allows the user to add and store photos of relatives, favourite foods, friends, pets, hobbies, childhood, worklife etc.
How does it work?
'About Me' is used to store and access personal information and record the person's life story. Personal preferences can be recorded in categories such as:
My Personal Possessions (items you always like to have close to you);
My Hygiene (eg, do you prefertaking a shower or bath?);
Maintaining My Independence (what things do you like to do for yourself?);
Sleep and Rest (what is your usual bedtime routine);
Family and Friends;
Spiritual Care;
Medication;
Food and Drink.
It's designed to support people with dementia and their families through all stages of the disease, with three versions – one for individuals (MindMate), one for families (MindMate Family), which has chat and video features, and MindMate for Care Facilities. The latter allows care staff to create a profile for each resident on the same tablet.
Download the app
It's available for Apple and Android devices
Details: mindmate-app.com
Share
Tags
---
Image credit: mindmate-app.com
Related News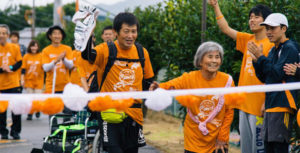 31 July, 2016
Dementia Friendly Communities showcases examples of dementia-friendly initiatives around the world
20 July, 2018
University of Newcastle medicine student, Tara Kannan, has been announced as a winner of this year's National Dementia Storytelling Competition, an annual awareness initiative run...