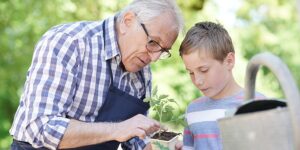 Environments: Meaningful Engagement Outdoors
Type: Video 43mins
Webinar – Wednesday 18 Nov 2020
During the COVID-19 pandemic, many residents have had little contact with friends and family and have spent a lot of time within the boundaries set by a care environment. It has become even more important to find ways to use the environment to enable and encourage residents to do things that are meaningful to them.
The webinar will looked at meaningful engagement outdoors. It addressed our need to get outside, be active and enjoy the fresh air. We introduced ways that a good environment can support people to make choices, use retained abilities and engage in outdoor activity that is meaningful to them.
*You must be logged in as a DTA member to watch video presentations and access resources
Learning Outcomes
Better understand how a building can support people getting out to gardens and decks.
Introduce strategies to create more supportive outdoor areas for people living with dementia.
Reflect on the role of staff in supporting residents getting outdoors.
Presenters
Nick Seemann
Architect and Lead Environments Consultant, DTA
Tara Graham Cochrane
Landscape Architect and Environments Consultant, DTA
Downloads
---
Watch Webinar
File size: 406 mb
---
Topics