New environment and design guidelines a huge step forward for dementia patient care
Dementia Training Australia, UOW and the Federal Government collaborate on National Aged Care Design Principles and Guidelines.
The country's leading provider of support, education and training services for dementia care workers, Dementia Training Australia, has heralded the Federal Government's release of new environment and design guidelines for the industry as a momentous step forward for improved patient care in this country.
In a significant move towards enhancing the quality of aged care services across Australia, the Federal Government has released the National Aged Care Design Principles and Guidelines. Developed by the Department of Health and Aged Care in response to Recommendation 45 of the Royal Commission into Aged Care Quality and Safety Final Report, these guidelines aim to transform the aged care sector by establishing new standards for care facility design and operation.
The Department engaged Dementia Training Australia (DTA) as part of a consortium led by the University of Wollongong to develop the initial draft of these essential principles and guidelines.
Isabelle Meyer, Executive Director of Dementia Training Australia, expressed her enthusiasm for this transformative initiative.
"The National Aged Care Design Principles and Guidelines represent a crucial step towards improving the quality of life for older Australians in care facilities. We are proud to have played a central role in their development and are excited to see the positive impact they will have on the sector," she said.
"The development of the National Aged Care Design Principles and Guidelines is a testament to our commitment to improving the lives of older Australians in care facilities. It signifies a harmonious collaboration between academia, government, and industry experts. Our hope is that these guidelines will not only raise the bar for aged care services but also inspire a broader conversation about the importance of compassionate and person-centered care."
Leading the effort to shape these ground-breaking guidelines were DTA's Nick Seemann and Constructive Dialogue Architects' Liz Fuggle as lead authors. These guidelines are rooted in an evidence-based approach and internationally recognised strategies for creating supportive environments for older individuals. They provide a flexible framework to accommodate various design approaches tailored to the unique circumstances of aged care homes and their residents.
The four guiding principles that underpin these guidelines are:
Enable the Person: Focusing on individualised care and support.
Cultivate a Home: Emphasising the importance of creating a familiar and comfortable living environment.
Access the Outdoors: Encouraging access to natural spaces and outdoor activities.
Connect with Community: Promoting social engagement and community integration.
Dementia Training Australia has also developed a range of resources to assist aged care executives and front-line staff in implementing these principles within their organisations. An aligned environmental assessment tool is currently in development to further support the implementation process.
"We have worked closely with the University of Wollongong and the Department of Health to draft these guidelines, ensuring that they reflect the best practices and evidence available. We believe they can be an important tool in development and transformation of buildings as supportive environments for people living with dementia and other frailties," Nick Seemann said.
This initiative marks a substantial shift for aged care design by providing a comprehensive and person-centered approach to design. These new guidelines are expected to set a benchmark for aged care facilities across the country.
Dementia Training Australia and the University of Wollongong are proud to have been instrumental in the development of the National Aged Care Design Principles and Guidelines. This landmark initiative promises to enhance the quality of life for older Australians and represents a significant step forward in the aged care sector.
You can view the final report on the development of the draft National Aged Care Design Principles and Guidelines here: https://www.health.gov.au/our-work/residential-aged-care/managing-residential-aged-care-services/improving-accommodation-in-residential-aged-care
Related News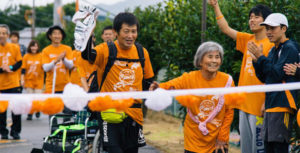 31 Jul 2016
Dementia Friendly Communities showcases examples of dementia-friendly initiatives around the world
02 Feb 2018
What gives our lives meaning is different for every one of us. DTA Executive Director Professor Richard Fleming writes for HelloCare.