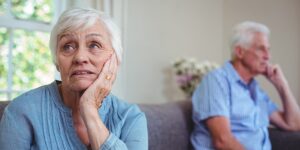 Developing Behavioural Interventions to Manage Responsive Behaviours
Type:
Toolkit
Behavioural symptoms of dementia can be disturbing to the person with dementia and challenging for carers to respond to effectively.
Non-pharmacological interventions that include meaningful activity and are person centred are recommended as the first line approach to address responsive behaviours. This presentation will review approaches to accurately assess responsive behaviours and how these assessments can then be used to develop care strategies that more effectively respond to such behaviours.

Learning Outcomes
On watching this webinar viewers will have gained:
Understand and identify responsive behaviours
Develop understanding of non-pharmacological interventions to address responsive behaviours
Enhance awareness regarding responsive behaviours, quality of life and activities
Presenter
Dr Margaret MacAndrew
Dr Margaret MacAndrew is a lecturer at the School of Nursing at Queensland University of Technology.
As an RN with experience in caring for people with dementia in long term care, she has an interest in improving quality of life for people with dementia and in particular people with dementia who wander. Over the past three years she has trialled two behavioural interventions that aimed to reduce risky aspects of wandering in in long term care and is currently developing a tool to reduce risk associated with wandering through accurate assessment and targeted care planning.
Downloads
Template: Assessment tool for wandering in the community (RAWS-CV)
PDF | File size: 321KB
Template: Assessment tool for wandering in long term care (RAWS-LTC)
PDF | File size: 74KB
Presentation Slides
PDF | File size: 3MB
Presentation Video
MP4 | File size: 1.75GB
Presentation Video (slides)
MP4 | File size: 336MB
---
Topics